Nicconi X Just Great - Colt
---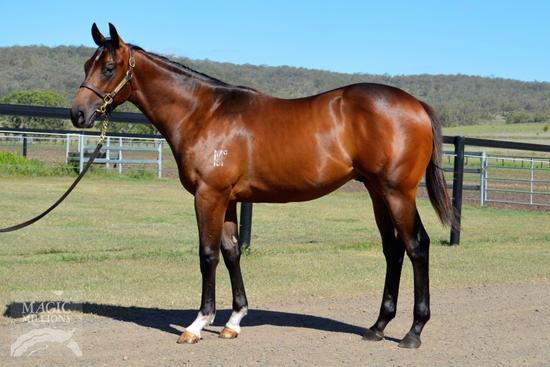 Sire: Nicconi
Dam: Just Great
Colour: Bay
Gender: Colt
Age: 2 year old
Foaled: Oct 2nd, 2017
Country: Australia
---
Pedigree
BAY COLT (AUS)

Foaled 2nd October 2017

---

| | | | |
| --- | --- | --- | --- |
| Sire | Bianconi | Danzig | Northern Dancer |
| NICCONI (AUS) | | Fall Aspen | Pretense |
| 2005 | Nicola Lass | Scenic | Sadler's Wells |
| | | Dubai Lass | Bletchingly |
| Dam | Great Dane | Danehill | Danzig |
| JUST GREAT (AUS) | | Itching | Thatching |
| 2004 | Just Now | Semipalatinsk | Nodouble |
| | | Tautina | Lumley Road |

---

NICCONI (AUS) (Bay 2005-Stud 2010). 6 wins-1 at 2, VRC Lightning S., Gr.1. Sire of 372 rnrs, 268 wnrs, 17 SW, inc. Nature Strip (MVRC Ian McEwen S., Gr.2), Faatinah, Sircconi, Chill Party, Nicoscene, Time Awaits, Concealer, Niccanova, Tony Nicconi, Hear the Chant, State Solicitor, Caipirinha, It's Been a Battle, Ayers Rock, Quatronic, Exclusive Lass, Loved Up, SP Akkadian, Mandylion, Shokora, Fickle Folly, Bolero King, Nieta, Caesour's Dream, etc.

1st dam

JUST GREAT, by Great Dane. Raced once. Half-sister to Just a Flyer (dam of CLOSE YOUR EYES). This is her eighth foal. Her seventh foal is a 2YO. Dam of three foals to race, two winners, inc:-

Hardman Harry (g. by Mossman). 6 wins from 1200m to 2100m, A$77,450 in Aust.

Sophia's Son (g. by Snippetson). 2 wins at 1200m, 1400m in Aust.

2nd dam

JUST NOW, by Semipalatinsk. Second top filly on The 1985-86 Australasian 3YO Classification. 10 wins from 1400m to 2400m, A$280,875, AJC Oaks, Gr.1, VRC Turnbull S., Gr.2, AJC Princess H., Gr.3, BATC Labour Day Cup, L, QTC Ascot H., L, BATC Edinburgh Castle Intermediate H., QTC Roma H., Lancaster Graduation S., Qantas 767 Graduation S., Sixth Brigade Graduation S., 2d Queensland Oaks, Gr.1, QTC Paddington Intermediate H. Sister to Handsome Warrior, Just for Luck (dam of SCENIC WARRIOR, STANZAIC), Auvergne Miss (dam of FOR THE GOOD TIMES), three-quarter-sister to TELLTINA (dam of TELLSON, TELLEM), Fans, Give to Thee, Palmyra Bay (dam of LITTLE PATTIE), half-sister to BERNALLA (dam of STARTELL), Mineral Man, How About Now (dam of SHIVA'S REVENGE, NOW'S GOOD). Dam of 11 foals, 9 to race, 5 winners, inc:-

Just Ordained. 4 wins from 1400m to 1800m, 2d BTC GNS Quill 2YO H., QTC Breakfast Creek Hotel H., Conrad Treasury P., Centenary Classic P., Sunshine Coast 2YO Classic, 3d BTC Carlton Draught P., XXXX Gold P., QTC Tattersall's Bowls Club H., Hi Jinx P.

Just a Flyer. 3 wins from 1200m to 2000m, 3d VRC Dulcify H. Dam of-

CLOSE YOUR EYES (Geiger Counter). 4 wins to 1200m, A$210,700, SAJC Angas Brut S., Gr.2, KPMG S., L, VATC Storm Queen H., VRC Rainburst H., 2d VATC Burberry H. Dam of-

Can't Hackit (Fasliyev). 2 wins at 2, 2d ARC Mercedes Super Bonus Juvenile H., 3d Matamata Breeders' S., Gr.2. Dam of-

Spot the Rock (Fastnet Rock). 3 wins to 1300m, A$196,080, ATC National Apprentices H., BRC Ascend Sales H., 2d ATC Ara Wines H., BRC Rochelle Lynch Happy 50th H., Nugrow H., Broncos H., 3d BRC Queensland Guineas, Gr.2, STC Inglis 2YO Classic, ATC Rydges North Sydney H., STC Winning Post Restaurant H.

Quality Eyes. Winner at 2 in NZ. Dam of-

LA FILLE EN JEU (Mettre en Jeu). 9 wins from 1200m to 1600m, NZ$168,960, to 2017-18, CJC South Island Thoroughbred Breeders H., Gr.3, Easter Cup, L, WRC Haight Ashbury H., 2d Wairarapa Thoroughbred Breeders S., L, Hawkes Bay City of Hastings Cup, 3d WRC Hiremaster H., 4th Manawatu Challenge S., Gr.2, Hawkes Bay GR Kelt Memorial H., Gr.3, WRC Cuddle S., Gr.3, CJC Great Easter S., L.

Overtheriver (Mettre en Jeu). 22 wins from 1150m to 2050m, NZ$384,760, to 2018-19, Manawatu RC Carters Ashhurst Pohangina Cup, CJC Coupland's Bakeries Mile Trial H., Taranaki RC Energy City Ford H., Kumara RC Vernon & Vazey Gold Nuggets H., Waverley RC CR Grace & Taylor Preston H., Reefton Cup-twice, Manawatu RC Crombie Lockwood H., Tru Test H., Poverty Bay Cup, 2d Taranaki Cup, Gr.3, CJC Great Easter S., L-twice, Manawatu RC Manawatu Standard Summer Cup, CJC Dyer Decorating H., Speight's H., Wanganui JC Chronicle H., 3d Manawatu Cup, Gr.3, CJC Mohua Premier H., Hornby Working Men's Club Cup, Otaki Maori RC Hunting & Fishing H., Waverley Cup, Greymouth Cup, CJC Romano's Pizzas H., Manawatu RC Hong Kong Jockey Club Trophy.

San Michele. Unraced. Dam of-

SEA GALLEON (Galileo). 5 wins from 1300m to 2400m, A$288,317, ATC Christmas Cup, L, MRC D'Urban H., MVRC Aquanas Foods H., 2d MRC Catanach's Jewellers Ladies' Day P., 3d South Australian Derby, Gr.1, Mornington Cup, L, VRC Galilee Series Final H., MVRC SAJ Catercare Group H., MRC Royal Charter H.

Just a Fortune. 2 wins at 1600m in Aust. Dam of-

Fortunair. Winner at 1050m in Aust. Dam of-

Just Destiny (Conatus). 4 wins-1 at 2-at 1200m, 1300m, A$117,175, BRC Greenslopes Private Hospital H., River Junction Droughtmasters H., 2d BRC BNB Fresh Newsxpress The Gap P., 3d BRC Nudgee H., L, Just Now H., L, Racing Retro H., Queensland Reef & Beef P., Plough Inn Tavern H., Sky Racing H. Producer.