Incentives:
Owners: Ms C E Curtis, Mystery Downs (Mgr: F Cook), Mrs C M Cook, Newgate Sf (Mgr: G Murphy), Hollymount Stud (Mgr: M Sandblom), Winstar Farm Llc (Mgr: J Mullikin), Belsin Thoroughbreds (Mgr: M Sinclair), L J Tansey, Mrs J F Tansey, P Bishop, Ms L J Watson, Miss C J Fahey, P Conroy, Ms R Whittle & M Hughes
GOLD COAST 2020 MAGIC MILLIONS YEARLING SALE PURCHASE – $100,000
***UPDATE***
FLYING ARTIE'S ARTORIUS WINS THE GROUP1 BLUE DIAMOND STAKES.
Outstanding bay yearling filly by the exciting first season sire Flying Artie, an outstanding juvenile & Champion 3yo colt.
This filly is the first filly from the mare after 6 colts. She has good stakes winners in all 3 dams in her pedigree. She will hold good residual value later as a broodmare.
She was fabulous value and very well bought being a sister to stakes winner Dark Eyes.
We are delighted to race her with her breeders Henry Field of Newgate Farm & partners as well as great clients Frank & Christine Cook.
THE FILLY
Fluent mover
Athletic
Great angles
In the mould of her sire
Fantastic temperament
Great balance
"The filly carries herself beautifully in an excellent walk. She is confident and sensible. She has all the same angles as her sire at the same age. I love what Flying Artie did as a 2yo & 3yo. His race record is outstanding. The Coolmore Stud Stakes is a reknowned stallion making race. He beat some top liners in his 2 & 3 year old seasons. I have a huge respect for him and I can't wait for them to get to the track."
Video – February 2021
**UPDATE**
THE FILLY IS CURRENTLY SPELLING FOR APPROX 4 WEEKS.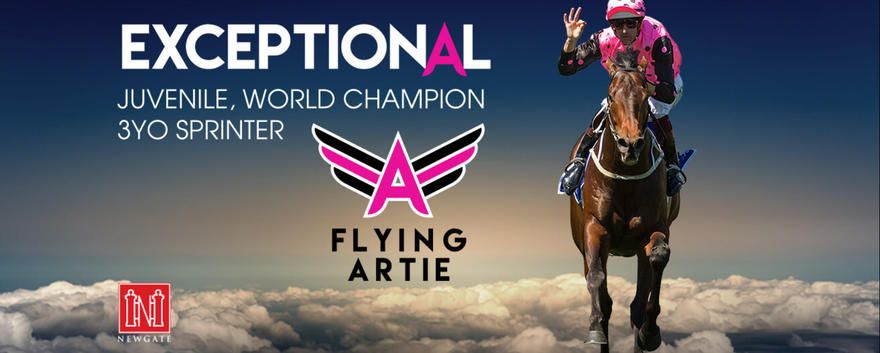 EXCEPTIONAL JUVENILE, WORLD CHAMPION 3YO SPRINTER. 
An Exceptional Juvenile – won the G3 Blue Diamond Prelude defeating Star Turn, ran a tremendous Blue Diamond running 2nd to Extreme Choice, and ran 3rd in the G1 Golden Slipper with Champion Capitalist the only colt beating him home
"Flying Artie was superb in the 2016 Blue Diamond, rating 102.3 in one of the highest rating editions of the race on record. To put that in perspective he would have won this years edition of the race and would have clearly defeated Pride of Dubai in the 2015 Edition" – Leading Australian Form Analyst Daniel O'Sullivan
World Champion 3YO Sprinter of 2016 – Longines World Racehorse Rankings – above other top sprinters Extreme Choice, Astern, Star Turn, etc
Australia's Timeform Highest Rated 3YO Sprinter 2016/2017
Won the Group 1 Stallion-Making Coolmore Stakes defeating the likes of Extreme Choice, Astern, Star Turn, and Russian Revolution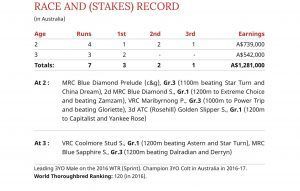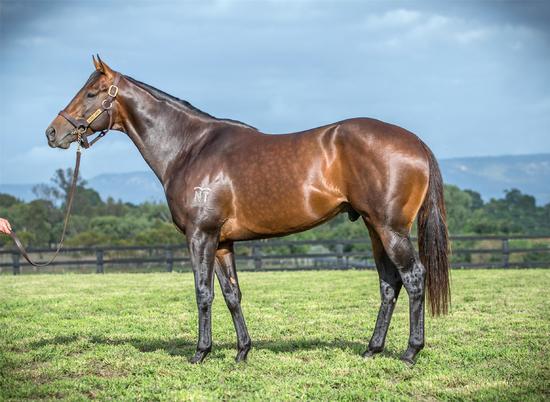 Pictured – Flying Artie 
THE DAM 
CINNAMON DOVE 
Cinnamon Dove is a winning American mare by the outstanding sire Gulch. She hails from a strong American family. She is a half sister to the stakes winner Walkslikeaduck She boasts stakes winners in all 3 dams. She is from the family of stakes winners Del Mar Show, Adel, Interpol, Forestry Type, Prankstress, Casual Attitude & Carinosa.
Cinnamon Dove is the dam of Stakes winner Dark Eyes, he is the winner of 9 races.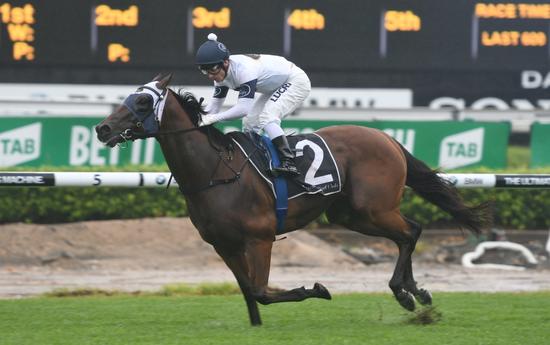 Pictured – Dark Eyes

THE PLAN
FULLY NOMINATED FOR THE MAGIC MILLIONS SERIES
19 races across six states of Australia
Six races recognised with Restricted Listed black type
$11+ million in prizemoney on offer nationally including a $10.25 million Raceday on the Gold Coast!

BOBS ELIGIBLE
Racing NSW BOBS (Breeder Owner Bonus Scheme) rewards owners who invest in NSW bloodstock.
BOBS bonuses are paid out on racetracks all around NSW, adding a payment of up to $20,000 for each win as a two-year-old and three-year-old. Last season, over $13 million was paid out in cash bonuses and Double-Up vouchers, bringing the total since the scheme's inception to over $129 million.
To be eligible for BOBS, a horse must be sired by a BOBS eligible stallion and nominated for the scheme.
GOLDEN SLIPPER
The filly will be nominated for the 2021 Golden Slipper, the world's richest race for 2yos.
Ownership opportunities available.
Please contact Cherie on 0420818404 or Lee on 0406997705 or email admin@curtisracingstables.com.au
DALCHINI (AUS)

Bay Filly
Foaled in 2018

---

| | | | |
| --- | --- | --- | --- |
| Sire | Artie Schiller | El Prado | Sadler's Wells |
| FLYING ARTIE (AUS) | | Hidden Light | Majestic Light |
| 2013 | Flying Ruby | Rubiton | Century |
| | | Parkhill's Flyer | Brigand |
| Dam | Gulch | Mr. Prospector | Raise a Native |
| CINNAMON DOVE (USA) | | Jameela | Rambunctious |
| 2005 | Nabla | Theatrical | Nureyev |
| | | Prankstress | Foolish Pleasure |

---

FLYING ARTIE (AUS) (Bay 2013-Stud 2017). 3 wins-1 at 2-at 1100m, 1200m, A$1,281,000, VRC Coolmore Stud S., Gr.1, 3d ATC Golden Slipper S., Gr.1. Out of SW Flying Ruby. Sire of SW Artorius (MRC Blue Diamond S., Gr.1), SP Giannis, The Art of Flying and of Artero, Princess Bojack, Almighty Rising, Bourbon Flyer, Flying Tyrol, Fumiko, Harlem Groove, Lasco, Rockin' Artie and of the placegetters Artiebe, Carartie, Chief Artie, Democracy Manifest, etc. His oldest progeny are 2YOs.

1st dam

CINNAMON DOVE, by Gulch. Winner at 6½f in U.S.A. Half-sister to WALKSLIKEADUCK, Katara, Super Natascha. Dam of seven named foals, six to race, three winners, inc:-

DARK EYES (g. by Snitzel). 9 wins from 1200m to 2000m, A$646,875, Canberra Cup, L, VRC Les Carlyon H., Goulburn Cup, ATC Theraces H., Cafe Culture & Insitu H., Tab.com.au H., Tattersalls Club H., 2d Wyong Gold Cup, L, ATC Elite Sand & Soil Mile H., 3d ATC Sydney Markets Foundation H., AW Edwards H., 4th ATC Premier's Cup, Gr.3, Parramatta Cup, L.

Cinnamon Missile (g. by Smart Missile). 4 wins to 1400m, A$142,350, to 2020-21, 2d BRC Souths Sports Club P., Weddings at BRC H., 3d Clarence River JC NRRA Country Championships Qualifier, BRC Big Screen on the Green P., Qld Tatt's RC Lazy Yak P.

Bold Spice (g. by Brazen Beau). Winner at 1400m in 2020-21 in Aust.

The Green Dragon (g. by Rothesay). Placed to 2020-21 in NZ.

Spice Treasure (g. by Congrats). Placed in Aust.

2nd dam

NABLA, by Theatrical. 5 wins at 8½f, US$106,169, Belmont Allowance, Gulfstream Park Allowance-twice, Saratoga Allowance. Sister to DEL MAR SHOW, Striesen, half-sister to ADEL (dam of INTERPOL, FORESTRY TYPE). Dam of 12 named foals, 10 to race, 9 winners, inc:-

WALKSLIKEADUCK (Blushing John). 4 wins from 6½f to 9f, US$418,354, Del Mar Derby, Gr.2, Bay Meadows Derby, Gr.3, Hollywood Park Allowance, 2d Santa Anita San Fernando S., Gr.2, 3d Del Mar Relaunch S., L, 4th Hollywood Derby, Gr.1. Sire.

Katara (Pulpit). 2 wins at 1m, 8½f, US$98,630, 3d Saratoga Lake Placid S., Gr.2, Colonial Downs Virginia Oaks, Gr.3. Producer.

Super Natascha (Pulpit). 2 wins-1 at 2-at 8¼f, 8½f, US$101,349, 2d Delaware Park Blue Hen S., L, Irish Sonnet S., L. Dam of-

Gone as Wind. 8 wins-1 at 2-from 1200m to 1700m in U.S.A. and Mexico, Las Americas Clasico Baycho, 2d Las Americas Clasico Cabalgata, 3d Las Americas Clasico La Raza.

3rd dam

PRANKSTRESS, by Foolish Pleasure. 5 wins-4 at 2-to 6f, US$194,070, Ak-Sar-Ben Lady Sponsors' S., L, River Downs Bassinet S., L, Ak-Sar-Ben Freshman S., L, 3d Santa Anita Taisez Vous S., L. Sister to Cooleemee (dam of CASUAL ATTITUDE). Dam of 6 foals, 5 to race, all winners, inc:-

DEL MAR SHOW (Theatrical). 13 wins-1 at 2-from 1m to 9½f, US$1,032,400, Saratoga Bernard Baruch H., Gr.2, Hialeah Turf Cup, Gr.2, Woodbine Connaught Cup, Gr.3, Gulfstream Park Fort Lauderdale H., Gr.3, Rockingham New Hampshire Sweepstakes H., Gr.3, Hialeah Royal Palm H., L, 2d Aqueduct Knickerbocker H., Gr.2, Pimlico Dixie S., Gr.2, Canterbury Park Derby, L, 3d Woodbine King Edward H., Gr.2, Arlington Park American Derby, Gr.2, Monmouth Battlefield S., L, 4th Saratoga Bernard Baruch H., Gr.2. Sire.

ADEL (Strawberry Road). 3 wins-1 at 2-from 1m to 9f, US$204,336, Churchill Downs Edgewood S., L, Gulfstream Park Allowance 3YOf, 2d Del Mar Oaks, Gr.1, Churchill Downs Regret S., L, Keeneland Appalachian S., L, 4th Del Mar San Clemente H., Gr.2. Dam of-

INTERPOL (English Channel). Champion Turf Male in Canada in 2015. 5 wins from 1m to 1½m, US$496,998, Woodbine Northern Dancer Turf S., Gr.1, Sky Classic S., Gr.2, 2d Woodbine Breeders' S., L.

FORESTRY TYPE (Forestry). 10 wins from 6½f to 8½f, US$186,792, Prairie Meadows Prairie Mile S., L.

Poco Mas. Placed at 3 in U.S.A. Dam of-

CARIÑOSA (Tiznow). 6 wins from 1400m to 2000m in Argentina, La Plata Clasico Marcos Levalle, Gr.2, Handicap Haras El Turf, Handicap Argentaria, Especial Florentino Ameghino, 2d Palermo G.P. Criadores, Gr.1, La Plata Especial Jockey Club de Santa Fe, Especial Republica del Paraguay, Especial Haras Alborada, Especial Mariano Moreno.

TATTERS TO RICHES (Union Rags). 3 wins-1 at 2-from 6f to 1m, US$135,960, Del Mar Shared Belief S., L.

Seeking Adel. Unraced. Dam of-

ROYAL AVSAR (Flower Alley). 13 wins-2 at 2-from 1300m to 2200m to 2021 in Turkey, Ankara Yildirim Bayezid, L, 2d Ankara Cevre ve Sehircilik Bakanligi, L, 4th Ankara Kalesi, L.

SEEKING THE SHERIF (Officer). 11 wins to 6½f, US$397,904, Oak Tree Sprint S., L, Los Alamitos RC Katella S., L, 2d Santa Anita Joe Hernandez S., L, 3d Del Mar Bing Crosby S., Gr.1.

Striesen (Theatrical). 6 wins from 1m to 9f, US$235,004 in Ireland and U.S.A, 2d Churchill Downs Providian Mile S., Gr.3, Canterbury Park Lady Canterbury H., L, 3d Churchill Downs Cardinal H., Gr.3, Ellis Park Dade Turf Classic H., L, 4th River Downs Breeders' Cup H., L. Producer.

Race Record:

Unraced.