Incentives:
INGLIS CLASSIC YEARLING SALE PURCHASE – $75,000
Beautiful, strong and athletic filly by Champion 2yo son of Snitzel, INVADER.
From the stakes placed Domesday mare TEARS IN HEAVEN.
Bred on the same line as the brilliant colt TRAPEZE ARTIST (Snitzel x Domesday cross)
THE FILLY
Confident
Sensible
Athletic
Balanced
Strong
Precocious
A beautifully balanced filly who exudes confidence and sensibility. An athletic individual, stands over nice ground and moves with fluency. A lovely racy filly with a solid dam line by an exciting young sire.
MAY 2022 UPDATE –
We are very happy with the filly's progress. She has grown very nicely and she continues to impress in her work and in the stable. She is now almost ready to go! Names are being called for and she will head off to the trials in late May/early June. A very nice filly, ticking all the boxes and the time has been given so anyone coming in now will be joining the ownership of a horse that will be racing very soon!

Invader's win in the Sires' Produce was nothing short of sensational. Stepping up to 1400m for the first time, he settled five lengths behind the early leaders before bursting clear at the 50m mark to win by three-quarters of a length.
In what was one of the strongest ever fields in the race Invader beat another Group One-winning Snitzel colt in Summer Passage. Subsequent Group One T J Smith, Golden Rose and All-Aged Stakes winner Trapeze Artist, also by Snitzel, was third.
The victory was a just reward for Invader who had been unlucky to miss the Golden Slipper a fortnight prior when a stone bruise saw him scratched on the eve of the $3.5million race.
Peter Snowden was bullish after the victory; "When you go back and look at that, he drew four but to manoeuvre and get to where he did from where he was in the clear was something to behold. It went a long way to the horse winning today."
Invader has the all-important Australian market requirements of precocity, speed and conformation and being by Snitzel and out of a black-type Encosta de Lagomare he is positioned to continue the legacy of Champion Sires Danehill, Redoute's Choice and Snitzel before him and become the next sire-sensation in Australia.
By Champion Sire Snitzel
Snitzel's highest-rated Timeform 2YO in history
The ONLY 2YO Colt by Snitzel to win a G1 over a sprint distance
The Champion 2YO Colt of his generation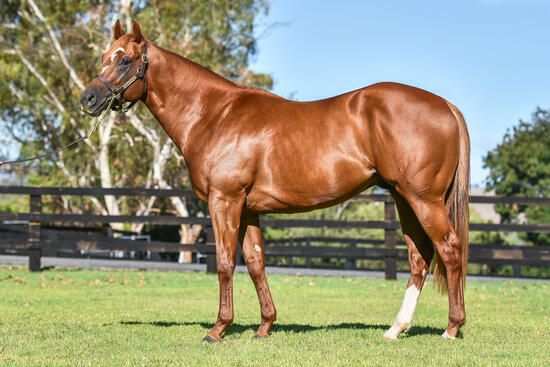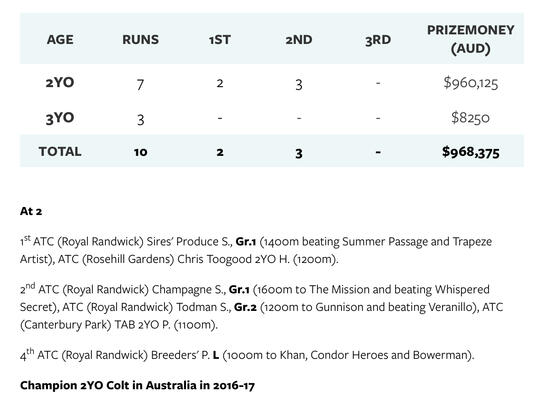 THE DAM
Tears in Heaven is a 6 time winning Domesday mare who was stakes placed in the Sydney/NSW region. A winner over the distances of 1000-1400m and up until the age of 8 years she was a tough mare to say the least.
Domesday is a very successful broodmare sire in Australia, his greatest success as a brood are sire is of the outstanding colt Trapeze Artist who is by Snitzel, making our filly bred on the same line,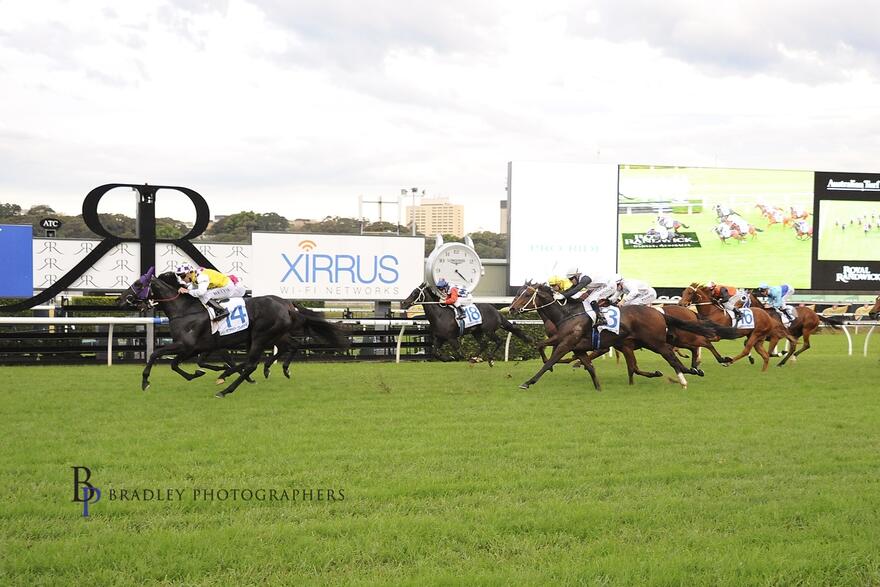 Pictured – Tears in Heaven 
Our filly is bred on the same line as the brilliant multiple Group 1 winning colt and emerging stallion TRAPEZE ARTIST. He currently stands at Widden stud for $77,000.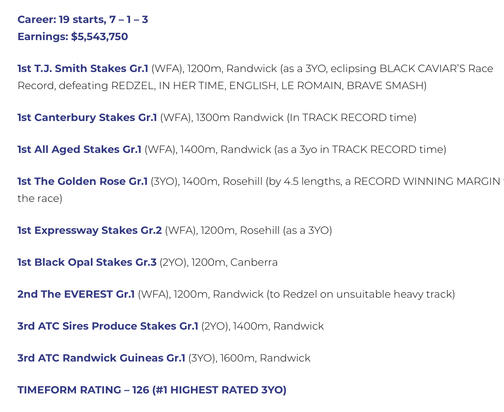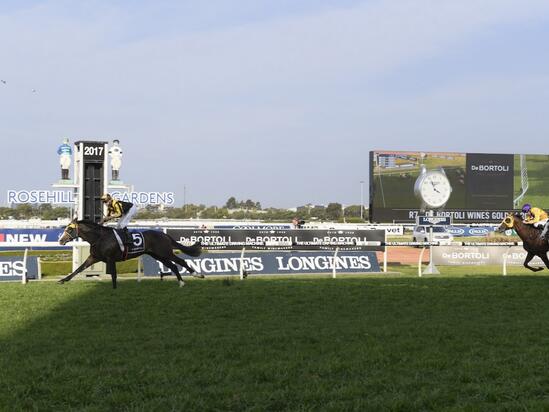 Pictured – Trapeze Artist 
THE PLAN 
FULLY NOMINATED FOR THE INGLIS SERIES
$8,000,000 races series for 2 & 3 year olds sold through Inglis sales
Four races recognised with Restricted Listed black type
7 races to be run in Sydney, Melbourne or Scone
BOBS ELIGIBLE
Racing NSW BOBS (Breeder Owner Bonus Scheme) rewards owners who invest in NSW bloodstock.
BOBS bonuses are paid out on racetracks all around NSW, adding a payment of up to $20,000 for each win as a two-year-old and three-year-old. Last season, over $13 million was paid out in cash bonuses and Double-Up vouchers, bringing the total since the scheme's inception to over $129 million.
To be eligible for BOBS, a horse must be sired by a BOBS eligible stallion and nominated for the scheme.
Ownership opportunities available.
Please contact Cherie on 0420818404 or Lee on 0406997705 or email admin@curtisracingstables.com.au
Photo of Tears in Heaven courtesy of Bradley Photos.
CHESTNUT FILLY (AUS)

Foaled 21st September 2019

---

| | | | |
| --- | --- | --- | --- |
| Sire | Snitzel | Redoute's Choice | Danehill |
| INVADER (AUS) | | Snippets' Lass | Snippets |
| 2014 | Flame of Sydney | Encosta de Lago | Fairy King |
| | | Flame of Atlanta | Clay Hero |
| Dam | Domesday | Red Ransom | Roberto |
| TEARS IN HEAVEN (AUS) | | In the Past | Zafonic |
| 2010 | Angel Fish | Dolphin Street | Bluebird |
| | | Halo Bettae | Don't Say Halo |

---

INVADER (AUS) (Chestnut 2014-Stud 2018). Co-champion 2YO Colt in Australia in 2016-17. 2 wins at 2 at 1200m, 1400m, A$968,375, ATC Sires' Produce S., Gr.1, Chris Toogood 2YO H., 2d ATC Champagne S., Gr.1, Todman S., Gr.2, TAB 2YO P., 4th ATC Breeders' P., L. Half-brother to SW Not Listenin'tome (HKJC Jockey Club Sprint, Gr.2). Out of SW Flame of Sydney. Related to SW Holy Snow, etc. His oldest progeny are yearlings.

1st dam

Tears in Heaven, by Domesday. 6 wins to 1400m, A$153,350, ATC Pro-Ride H., 2d Wyong RC Mona Lisa S., L, 3d ATC Sportsyear H. This is her first foal.

2nd dam

ANGEL FISH, by Dolphin Street. 9 wins from 1200m to 1600m, A$102,250, STC Action SAS H., 2d AJC Spring Country Cup, Centennial Park H., Phil Novacevski H., STC Young Members Cruise H., 3d AJC Gallipoli H., Carlton H. Dam of 8 named foals, all raced, 6 winners-

Tears in Heaven (Domesday). 6 wins. See above.

Bermuda Blu. 7 wins to 1400m, A$176,195, ATC Mossman at Vinery H., Big Brown First Crop H., 2d ATC Schweppes H., Theraces H., Port Macquarie RC Arrowfield Queen of the North H., 3d ATC Tab.com.au H., NSW Tatt's RC TAB Rewards H.

Preacher Man. 6 wins from 1400m to 2100m in Aust.

Domesman. 5 wins to 1500m in Aust.

Winged Poet. Winner at 2250m in Aust.

No Angel Here. Winner at 1400m in Aust.

Run Angel Run. Placed in Aust.

Great Catch. Placed in Aust.

3rd dam

HALO BETTAE, by Don't Say Halo. Winner at 1200m, 3d STC Chullora H. Half-sister to GLENPOST, Hon Kwok Treasure - Treasure Hunter (H.K.), Hopelessly Devoted (dam of RYDELL HIGH - CHEERS HARMONY (MAC.)). Dam of 6 named foals, all raced, 5 winners, inc:-

Angel Fish. 9 wins. See above.

Rontgen. 11 wins from 1000m to 1600m, A$121,125 in Aust.

Betatron. 2 wins at 1000m, 1300m in Aust.

Trinian. 2 wins at 1000m, 1100m in Aust. Producer.

Surreal Striker. Winner at 1300m in Aust.

4th dam

FLOWER DANCING, by Lord of the Dance. Unraced. Half-sister to Brioche Castle. Dam of 12 named foals, 11 to race, 5 winners, inc:-

GLENPOST (Top Post). 11 wins-1 at 2-from 1400m to 2400m, A$142,620, NSW Tatt's RC Tattersall's P., L, AJC Duo H., STC Fairfield RSL Club H., 2d STC Bon Terre Welter H., AJC Optus P., 3d NSW Tatt's RC Tattersall's P., L, AJC Gallopers Club H., 4th Newcastle Cup, Gr.2, AJC Dulcify Quality H., L.

Hon Kwok Treasure - Treasure Hunter (H.K.) (Rory's Jester). Placed at 2, 3d MVRC Southern Cross Apartments S., L, 4th VATC Merson Cooper S., Gr.3, Debutant S., L.

Rory's Dancer. 2 wins at 2, AJC Tim Sweeny H.

Hopelessly Devoted. 2 wins at 1000m, 4th VATC Mona Nursery, L. Dam of-

RYDELL HIGH - CHEERS HARMONY (Mac.) (Military Plume). 7 wins from 1300m to 2400m, A$112,805, M$698,850 in Aust. and Macau, SAJC Port Adelaide Cup, Gr.3, Barossa Regional Shopping Centre H., Halfway Hotel H., Gold Ace H., 2d SAJC Go Twilight Racing H., VATC Sharp Corporation P., 3d VATC Pelham H., SAJC Group One Racing Syndicate H.

Northern Scent. Unraced. Dam of-

Was That You. 5 wins to 1200m, A$105,100, MRC Palphar H., Le Pine Funeral Services Cup H., MVRC CFMEU 150th Anniversary P.H., John Humbles H.

Something Funny. 5 wins to 1200m, A$110,260, VRC Ruffles H., SAJC Campaign King H., 2d VRC Centenary of Federation Sprint H., MRC Monash Open Day P., Zonda H., 3d VATC Avon H., VRC Tennessee Vain H., SAJC Sleephaven Anniversary Flying H. Dam of-

SMART VOLATILITY (Danewin). 7 wins at 1000m, 1200m, A$104,000, HK$7,476,250, Clarence River JC Ramornie H., L, HKJC Sunning H., Shek Mun H., Drake H., Indigenous H., Pak Tam Au H., Citibank Wealth Management H., 2d HKJC BOCHK Wealth Management Jockey Club Sprint, Gr.2, HKSAR Chief Executive's Cup, High Autonomy H., Lusitano Challenge Cup, 3d HKJC Kent & Curwen Centenary Sprint Cup, L, Sprint Cup, L, Premier Bowl H., L, 4th HKJC Sha Tin Vase, L.

Degeneres. Unraced. Dam of-

Ungrateful Ellen (Grey Swallow). 3 wins from 1300m to 1800m, A$273,700, MRC Catanach's Jewellers H., 2d BRC Queensland Oaks, Gr.1, SAJC Port Adelaide Cup, L, 3d SAJC South Australia Fillies Classic, Gr.3, 4th VRC Matriarch S., Gr.2, MRC Sandown Guineas, Gr.2, MVRC WH Stocks S., Gr.2.